Heavy Equipment Tire Technology To Get The Best Ride In The Field
Recently in our blog we wrote about tire safety – an obviously important issue for any fleet manager, and therefore important for your dealership's customers. But choosing the right heavy equipment tire in the first place can make every worksite not only safer but more productive. And more profitable. Those are things your customers certainly care about.
Tires are more than a consumable
All too often, fleet managers consider tires as just another cost. But cost is the operative word here – tires typically rank third among your operating expenses, behind people and fuel. So it literally pays to pay more attention to tire selection. Just as OEMs have worked hard to improve vehicle performance and fuel efficiency in recent years, tire manufacturers have worked to create more diverse product lines, with tires designed and compounded for specific applications.
So let's look at some examples of the latest in heavy equipment and truck tire technology.
Bridgestone V-Steel Snow Wedge All-Season (VSWAS)
This radial tire was designed with motor graders in mind. It works well all year round, but in particular provides superior traction in snow.
The casing facilitates retreading.
Cut-resistant rubber compounds mean heavy equipment tires last longer.
Deep tread siping greatly reduces the need for chains in snow and improves traction in gravel or soft sandy soils.
The sipes have tie-bars, which control movement of tread blocks. That produces more even wear.
Lugs are angled, with wide grooves. That reduces stone retention and stone throwing.
Available in 17.5R25 size.
Titan International TGS2 for motor graders
Graders have to perform consistently, no matter the working conditions. That requires reliable stability and traction. Enter the Titan TGS2 all-season radial tire.
Open shoulder design features full tread depth across the surface. That improves traction in mud, snow and ice.
Lug siping gives edges more bite, to reduce slippage.
There's a low sidewall option, which reduces bounce to improve the ride.
Both standard and low sidewall versions are available in multiple sizes.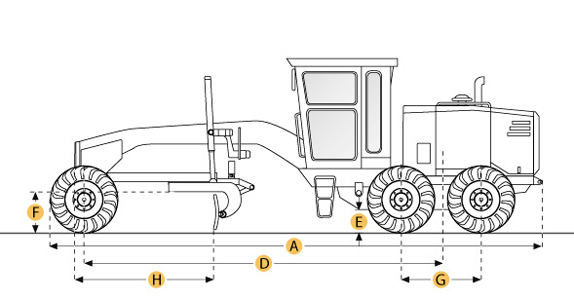 Goodyear Fuel Max LHS
This fuel-efficient steel-belted steer tire was designed to work with Goodyear's Fuel Max LHS G505D drive tire. Goodyear says this combo can save as much as $1300 in annual expense for a single truck over other tire brands.
Tread is compounded in multiple layers for more even wear, even in long-haul operations.
Tires resist penetration, which keeps small stones from boring into the tire casing. That also boosts your chances of retreading in the future.
BKT Lift Star for telehandlers
An unstable telehandler is a very dangerous machine, especially when it's fully extended. Seemingly insignificant movements on the ground grow large at the working end of the boom, endangering workers and job productivity. Tires are extraordinarily important here. The BKT Lift Star is a 16 PR tubeless bias heavy equipment tire specifically designed for telehandlers.
Available in 400/75-28 size.
Bigger rim and shorter, stiffer sidewalls boost stability.
Larger footprint reduces ground compaction and improves flotation.
Tread design facilitates longer life, even on paved surfaces and at higher speeds.
Cooper Discoverer STT Pro
Once trucks leave the road, their tires are at greater risk of cuts and gashes. No surprise there, if you're a contractor or an off-road enthusiast in your spare time. The Cooper Tire Discoverer STT Pro line was created just for you, with thicker sidewalls and tread to fend off sharp objects. The secret ingredient is something Cooper calls Armor-Tec.
Mud release dimples and scoops boost traction when conditions are sloppy, too.
The tread compound incorporates silica, for better traction when roadways are wet and lower rolling resistance, so you can look forward to better fuel economy.
The tread's groove pattern is angled to repel stones, protecting the tire's casing.
These aren't the only examples of the latest heavy equipment tire technology, but you get the point. Every heavy equipment tire detail counts. You can use this insight to outfit your dealership's rental fleet more cost-effectively and advise customers about the best tires for their truck and equipment fleet applications.